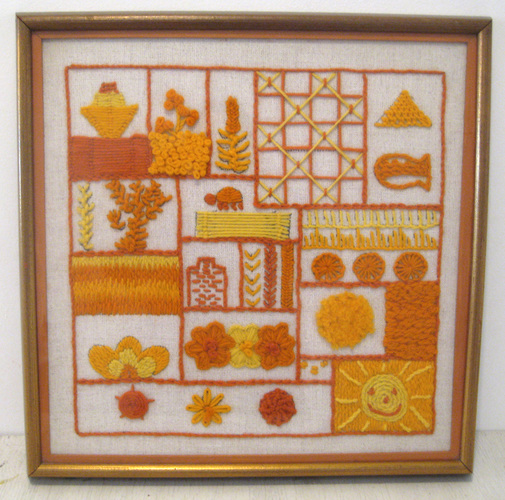 First Embroidery done as a young girl
BIOGRAPHY
Eileen Hoffman is a sculptor and installation artist who lives and works in Brooklyn, New York. She was born and raised in New Jersey (where her bedroom was entirely pink). She remembers learning how to knit from her friends' mothers and being fascinated by textile work of all kinds during childhood. Consistently fascinated by handwork, she continued her journey by learning embroidery and attending weaving and design classes in junior high and high school. She received a BS from Skidmore College where she graduated with honors and started creating elaborate artwork and installations. After that she received an MFA in textiles and sculpture from Indiana University.
Her art has been included in numerous solo exhibitions, most recently at the Hudson Opera House in Hudson, NY and the Johnson & Johnson World Headquarters in New Brunswick, NJ. She has also shown her work in group shows throughout the United States, most recently at the Blue Dog Gallery in Yonkers, NY, the Hullaballoo Collective at the Fountain Art Fair
in New York, NY, the Morris Museum in Morristown, NJ, and the Society for Contemporary Craft in Pittsburgh, PA.