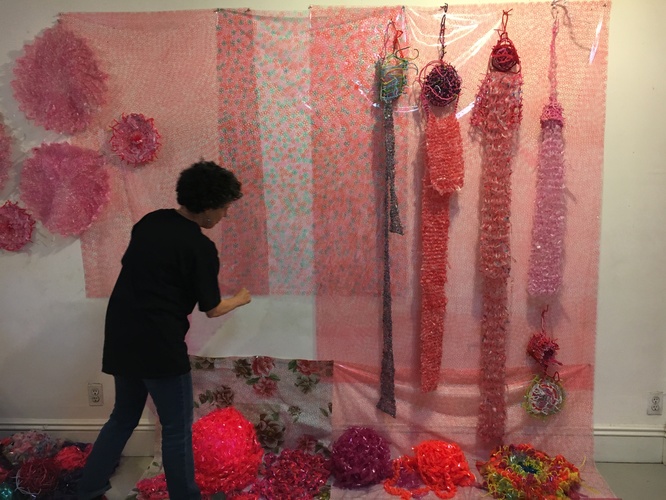 In the Brothers Grimm's tale, Rapunzel was a young girl fighting her way out of a castle that she knew was not the entirety of her world. Her long hair used to scale the tower is a compelling image of beauty and strength. This archetypal story illustrates the central premise of my work:
to make the undervalued, unseen culture of women's lives visible.
Growing up, I first developed my voice and visual language as an artist in my overtly pink bedroom/studio, my 'castle'. It was full of projects at different levels of completion; I knit, I sewed, I painted with my make-up. In particular I became deeply engaged with knitting, embroidery, and weaving. From this deep connection to the traditions of textile arts, I gained
an appreciation for the skill, vision, and time that this work requires. I was fascinated with the emotions and stories that were woven into the fabric of these projects. It was where I forged
my commitment to make visible the hidden stories of women's lives, including my own, while grappling with sexism.
My visual language consists of reclaiming pink, a color that has been oppressively misused
to represent femininity and combining it with non-traditional materials to build a connection between historical traditions and contemporary feminist ideology. Text from my early diaries
are often incorporated with patterns painted on Dura-Lar. The repeated lines and patterns allude to the emotions woven within the contemplative act of textile creation. In my method, the political is personal.