LOST + (RE) FOUND

At the Carter Burden Gallery
548 West 28th Street in New York City.

January 13 - February 9
The reception will be on Thursday, January 13 from 6 - 8pm
What is Lost? And What is Found? In 2021, The New York Artists Circle presented an online exhibition of 117 selected artists who explored and revealed what is truly important in our lives, as they coped with waves of serial losses and change during this pandemic time. Carter Burden Gallery has invited the New York Artists Circle to put together an in-person gallery version of the online exhibition. The (re)grouping of selected work led to two consecutive shows of 50 works distilled from the original 117; presenting an new opportunity for (re)reflection, (re)entering and (re)viewing up close and personal, aiming for a (re)bound through the (re)found. This important exhibition includes statements from each artist accompanying their work. The show offers the opportunity to (re)visit your own experience and (re)flect on these significant events.
CAUSALITY, curated by Kim Powers
At the Atlantic Gallery, NYC
An exhibition of 10 artists from the Brooklyn Crit Group
November 9th – November 27th, 2021
Kim Powers writes, "Eileen Hoffman is thinking outside the box. Stitching together chenille stems and Dura-lar, decorated with personal text and pattern, she sets up a dialog with everywoman. Her "Hidden Storybox" and "The Rapunzel Stories: "Knock the Tower Down" create an escape from the limited boundaries and towers to which female identity has so often been exiled."



I am pleased that my piece, The Rapunzel Stories: Maiden of the Tower, was part of the WOMEN CELEBRATE WOMEN exhibition at El Barrio Artspace PS109, August 12 through August 25, 2021.

Yvonne Lamar-Rogers, owner of Vonnie Made It!, has partnered with El Barrio's Artspace PS109 to present the second annual multi-media art exhibition celebrating diversity in New York's female visual arts community by exhibiting the creative works of 71 local women artists.

Exhibition curator and New York-based mixed media artist, teaching artist and jewelry design- er, Yvonne Lamar-Rogers says the mission of this year's Women Celebrate Women exhibition is to celebrate and honor women of all backgrounds. In the words of playwright Ntozake Shange, "Where there is a woman, there is magic." Originally planned for Women's History Month in March 2020, the annual exhibition was instead be held in August 2021 due to the coronavirus pandemic.


USPS ART PROJECT with FRAN BEALLOR
The USPS Art Project is a mail art artist collaboration project created by Christina Massey, free and open for anyone who wants to participate. The goal is for unique collaborative artworks to be created, allowing the artists to establish deeper connections with others while practicing social distancing and in doing so, help the financially struggling USPS by sending and receiving packages.
Past exhibition: Pelham Art Center
155 Fifth Ave
Pelham, NY 10803
Exhibition Dates: August 1st - 31st, 2020
Next stop: Ely Center of Contemporary Art
51 Trumbull St.
New Haven, CT 06510
Exhibition Dates: Oct 1 - 31st, 2020
PRAYERS FOR THE PANDEMIC; PRAYERS FOR PROGRESS VOLUME TWO
I am pleased that my piece, "The Stories Will be Told" is included in the Prayers for the Pandemic; Prayers for Progress (Group Two) Volume Two online catalog. It is sponsored by the Drawing Rooms in Jersey City.
Prayers for the Pandemic; Prayers for Progress is our ongoing public art project happening across the United States. The concept draws inspiration from Tibetan prayer flags made of colorful rectangular cloth that are strung along trails and peaks high in the Himalayas, and used to bless the surrounding area in which they are placed.
View VOLUME TWO ONLINE CATALOG, Pages 34-35

ARTISTS ON COPING: EILEEN HOFFMAN
Art Spiel Blog by Etty Yaniv, Interview by Catherine Kirkpatrick
During the Coronavirus pandemic, Art Spiel is reaching out to artists to learn how they are coping.
Read the interview
COPELOUZOS FAMILY ART MUSEUM
This piece, "The Pattern of the Story" is going to the Copelouzos Family Art Museum in Greece. It will be in good company as part of a 35 x 35 cm painting exhibition.
They shipped this beautiful canvas to me. I am not in the habit of working on canvas. I wrapped it with layers of my patterns painted on Dura-Lar. I use the layers of patterns to both show and hide the emotions and stories that are woven into the fabric of our lives. The story in this piece is about how I felt unseen as a young adult woman.
THE GOLD STANDARD: of TEXTILE and FIBER ART
Westbeth Gallery & The Textile Study Group Of New York

February 6 - February 23, 2020
Opening: February 5, 6 -8 PM
Gallery hours:
Wednesday-Sunday, 1-6pm, Closed Monday and Tuesday

The location is the Westbeth Gallery within Westbeth Artist Housing, America's largest art colony. The Textile Study Group of NY (TSGNY) show celebrates Westbeth's 50th Anniversary by representing the gold standard of work from TSGNY members. The exhibit showcases over 75 judged pieces, representing the most intriguing facets of tactile techniques and materials.
Westbeth Gallery, 55 Bethune St, New York, NY 10014
Denise Bibro Fine Art
529 West 20th Street 4W, New York, NY
January 9 – February 8, 2020

From numerous submissions and studio visits, diverse artists were selected to participate in this group show highlighting talent from New York City's five boroughs.
Art From the Boros VII exemplifies the eclectic artistic community of New York City, showing a variety of genres and mediums. The exhibition seeks to find the pulse of talent in the city that is often overlooked and underexposed.
 FAMILY MATTERS: SDA International Exhibition in Print,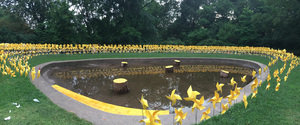 Select submitted works from the public, artists, and Brooklyn notables have been printed and transformed into thousands of pinwheels extending across the Rose Garden, a hidden gem in the Park's northeast corner that the Alliance plans to restore in the coming years. These moving expressions form a dynamic, engaging and ever-growing display worthy of the Park's 150th. They were on view July 2017.

My image was chosen as a group of 10 finalist. It was featured in the installation, and prints of it were on sale in the Brooklyn Museum's gift shop.
"RED"
December 19, 2017 - January 6, 2018
An exhibition of works by members of TSGNY
NoHo M55 Gallery, 530 West 25th Street, NYC

UPPERCASE MAGAZINE feature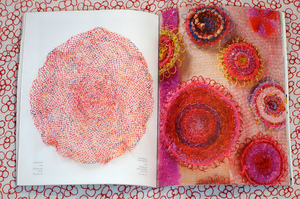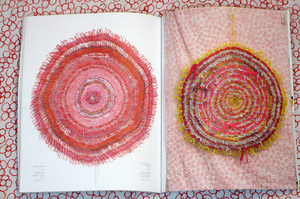 My work was featured in the January 2016 issue of
UPPERCASE Magazine. It was a 6 page spread
displaying my recent artwork.
TOYING WITH ART
The Morris Museum
6 Normandy Heights Road, Morristown, NJ
December 6, 2012 to March 17, 2013
Toying with Art explores the icons of childhood as artistic media, resulting in a nostalgic and inventive display of art.

I will be exhibiting three of my wire tapestry pieces built with stained pipe cleaners and a shredded fabric diary. My work reflects upon what the color pink means to girls growing up in this culture; both the beauty and oppressiveness the color can signify.