THE GOLD STANDARD: of TEXTILE and FIBER ART
Westbeth Gallery & The Textile Study Group Of New York

February 6 - February 23, 2020
Opening: February 5, 6 -8 PM
Gallery hours:
Wednesday-Sunday, 1-6pm, Closed Monday and Tuesday

The location is the Westbeth Gallery within Westbeth Artist Housing, America's largest art colony. The Textile Study Group of NY (TSGNY) show celebrates Westbeth's 50th Anniversary by representing the gold standard of work from TSGNY members. The exhibit showcases over 75 judged pieces, representing the most intriguing facets of tactile techniques and materials.
Westbeth Gallery, 55 Bethune St, New York, NY 10014
Denise Bibro Fine Art
529 West 20th Street 4W, New York, NY
January 9 – February 8, 2020

From numerous submissions and studio visits, diverse artists were selected to participate in this group show highlighting talent from New York City's five boroughs.
Art From the Boros VII exemplifies the eclectic artistic community of New York City, showing a variety of genres and mediums. The exhibition seeks to find the pulse of talent in the city that is often overlooked and underexposed.
 FAMILY MATTERS: SDA International Exhibition in Print,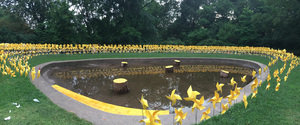 Select submitted works from the public, artists, and Brooklyn notables have been printed and transformed into thousands of pinwheels extending across the Rose Garden, a hidden gem in the Park's northeast corner that the Alliance plans to restore in the coming years. These moving expressions form a dynamic, engaging and ever-growing display worthy of the Park's 150th. They were on view July 2017.

My image was chosen as a group of 10 finalist. It was featured in the installation, and prints of it were on sale in the Brooklyn Museum's gift shop.
"RED"
December 19, 2017 - January 6, 2018
An exhibition of works by members of TSGNY
NoHo M55 Gallery, 530 West 25th Street, NYC

UPPERCASE MAGAZINE feature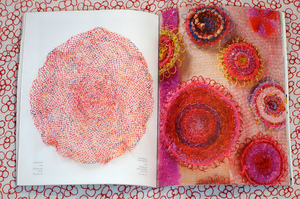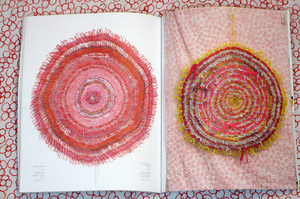 My work was featured in the January 2016 issue of
UPPERCASE Magazine. It was a 6 page spread
displaying my recent artwork.
TOYING WITH ART
The Morris Museum
6 Normandy Heights Road, Morristown, NJ
December 6, 2012 to March 17, 2013
Toying with Art explores the icons of childhood as artistic media, resulting in a nostalgic and inventive display of art.

I will be exhibiting three of my wire tapestry pieces built with stained pipe cleaners and a shredded fabric diary. My work reflects upon what the color pink means to girls growing up in this culture; both the beauty and oppressiveness the color can signify.